Some People Spend Money On
Shoes, or clothes, or computer equipment. Or drugs or hookers, but anyway. I have begun to spend money on, yup, yarn. My first mail order showed up a little while ago, and I thought I'd document the momentous occasion.
I made a shrug out of the light green yarn...it was okay. I forgot I have fairly wide shoulders, so it is a little tight, but I think the yarn is stretchy enough to compensate. The other yarn will hopefully turn into a cardigan type jacket.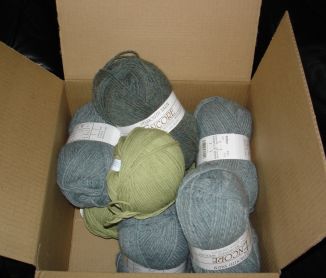 by at March 05, 2006 6:59 PM | TrackBack br> Comments