Latent KnitBlog
So these are my new bamboo needles, ordered/won off of eBay recently, shipped quite swiftly from Hong Kong, I think. Only problem? They're all double point needles. Did I catch this before I blithely put in a bid? I did not.
My first thought was, well, I'm going to be making a *lot* of socks. But then I realized, except for seriously large patches of knitting, I can MacGyver a solution with small clear hair elastics on one end of the DPNs...instant straight needles. It has worked remarkably well, and the best part is that I end up with basically a full set of bamboo needles, in both varieties.
And I only paid $12.50 for the set. Not a bad deal.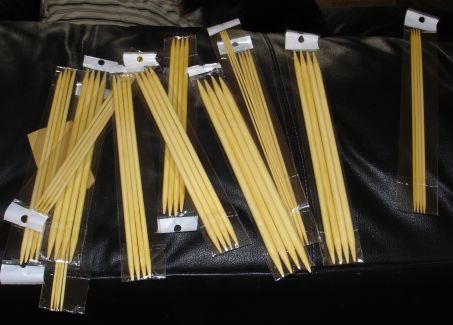 by at March 05, 2006 6:54 PM | TrackBack br> Comments